What is EFT?
Gary Craig created EFT (Emotional Freedom Techniques or Tapping) in 1990's and provided a simple and effective self-help method to ease and remove often long term issues such as;
anxiety
depression
addiction
physical illness and pain
negative behaviour patterns
trauma
abuse
phobias
It can also be helpful in improving performance, self-development or creating a more positive mindset.
EFT – acupuncture without needles
EFT is often referred to as acupuncture without the needles.  The client focuses on the problem, issue or pain and as s/he talks about it, the EFT points on the meridians are tapped by the client.  This produces a release of the emotion that has been blocked, thus allowing the client to feel better about the issue and often clear the problem completely by the process of rebalancing the meridian system.
The EFT Tapping points
EFT is simple to learn and an EFT Practitioner can help you put together personal phrases that you tap on in order to release the blockage in the meridian energy system.
Once you have been shown how EFT works, it is quite easy to just simply tap on the points when you are feeling stressed, in pain or having to deal with a particular issues that is causing you to experience negative emotions.
The EFT Tapping Round
The full tapping round includes:
1.  Karate Chop Point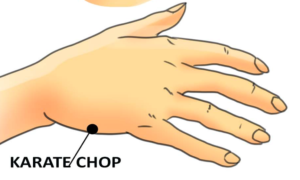 2.  Eyebrow Point
3.  Side of the Eye
4.  Under the Eye
5.  Under the Nose
6.  Chin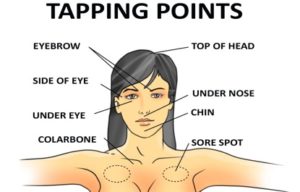 7.  Collarbone
8.  Sore Spot
9.  Top of the Head