I recently attended my first Reiki Drumming Circle with Jane and other Reiki Practitioners not really knowing what to expect!

Wow, the energy in room was amazing, lovely people and lots of good positive vibes, I enjoyed it so much I even bought a drum and can't wait for the next one.

Thank you Jane for a great evening.  Karen, Wiltshire

I had my first Reiki Drumming treatment with Jane the other day and all I can say is 'amazing experience'.  I had a pain in my knee caused through a sports injury which I had treated previously with Reiki.  This time the Reiki Drumming treatment felt much deeper and by the time the treatment had finished my pain was gone! That night I slept really well.

 I did experience a little bit of a healing curve but my

knee was still pain free for quite a few days afterwards (even though I carried on riding my horse).  It felt as though the treatment had been a lot deeper than Reiki on its own.  I will certainly be booking more Reiki Drum treatments with Jane in future.    Alex, Wiltshire 

What good vibrations!  My Reiki Drumming treatment was a really powerful and physical experience and I could really feel how the beat of the drum went right through me to my core and worked on my physical issues. I could also hear where I had 'issues' which was extraordinary.  I enjoy a blast of loud music for the good feeling it gives you, but this treatment takes that to a whole new feel-good level, both physically and mentally.

 If you've never experienced a drum treatment and want to really 'feel' Reiki working, then this session is a must!  Lesley, Wiltshire
About Reiki Drumming
Reiki drumming brings Reiki and shamanic medicine drumming together.  Reiki drumming™ (formed by Michael Arthur Baird of the Infinite Light Healing Studies Centre) is still quite new to the UK.
Tribal cultures have used the ancient practice of drumming for healing and meditation, using the power of sound for the mind, body and spirit.
How can it help?
Recent studies and research shows that brain activity is affected by drumming.  The sound and vibration of the drum can help with illness and emotional trauma.
Group drumming can help with;
improving the immune system
increasing self-esteem
addictive behaviour
How does it work?
By using Reiki and drumming together the energy helps to remove blockages and rebalance the energy field.  The combination of the two systems brings about a gentle and protective vibration working for the highest good for the client.
The Treatments
1. Basic Reiki Drum Treatment
During the treatment the drum is used intuitively over the client's body, providing a deep healing treatment.  This is then followed up with a hands-on Reiki treatment to integrate the treatments and to ground the client.
2. Mental / Emotional Reprogramming 
This technique is a combination of using the intuitive Reiki Drum treatment with personal powerful positive affirmations to support growth.
3. Reiki Drum Journey 
The Reiki drumming is used to progress the client into a deep meditative state in order to gain insights, spiritual guidance and healing.
Reiki Drum Treatments with Reiki Jane
If you would like to experience a Reiki Drum treatment please contact me jane@reikijane.co.uk  or phone 07798 846191.
Reiki Drum Circle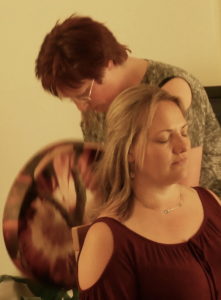 If you are interested in taking part in one of Reiki Jane's Reiki Drum Circles please contact me jane@reikijane.co.uk  or phone 07798 846191.
REIKI JANE REIKI DRUM LINEAGE
Michael Arthur Baird
Reiki Master at the Infinite Light Healing Studies Centre
Originator of Reiki Drumming™ 1999
Sarah Gregg
Kay Gillard
Catherine Birkinhead
Jane Child
There are some possible contraindications when working with Reiki Drumming  including:
Diabetes
Pacemakers
Epilepsy
Schizophrenia and Psychosis
Before you book your treatment possible contraindications will be discussed with you.